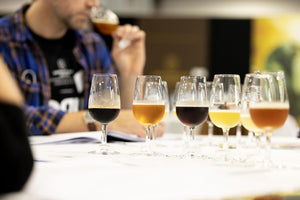 Awards
Melbourne Royal Australian International Beer Awards
The Melbourne Royal Australian International Beer Awards is the largest annual competition in the world judging both draught and packaged beer. Renowned for showcasing the highest quality beer and for celebrating brewing excellence in Australia and around the world, the Awards are open to brewers and breweries of all sizes, from small and medium volume to large scale commercial production.
Perth Royal Beer Awards
The Perth Royal Beer Awards are WA's premier beer competition; established in 2007 it has been promoted and celebrated an industry experiencing continual expansion and innovation. The competition, which is part of the Perth Royal Food Awards, welcomes entries from commercial, mid and small sized craft breweries. 
The Royal Adelaide Beer & Cider Awards
The Royal Adelaide Beer & Cider Awards (RABCA) is open to beer and cider producers from Australia and New Zealand.
Established in 1844 and relaunched in its current format in 2010, In 2021 RABCA includes twelve highly coveted trophies up for grabs. Categories include lagers, ales, porters, stouts, reduced alcohol beer, wheat beer, rye beer, alternative grain beers, cider and perry (pear cider).